Daniel Hecht recorded three albums of original compositions for solo guitar (and mixed instrumentals): Guitar, Fireheart/Fireriver, and Willow.  His Willow album, on Windham Hill Records (Sony/BMG) in the United States, was also released on various labels abroad, and individual cuts appear on many compilation albums and videos.  He performed over 300 concerts throughout the Untied States, Europe, and China, including two concerts at Carnegie Recital hall, prior to retiring from music in 1990.
Daniel writes: "I owe huge thanks to my performing partners Alex de Grassi, Michael Hedges, George Winston, Cam Newton, John Fahey, and Will Ackerman for some truly memorable times and wild misadventures.  I am constantly astonished by the lingering interest in my long-ago music career, and I'm always grateful for the mail I get from fans of the American steel-string acoustic style!"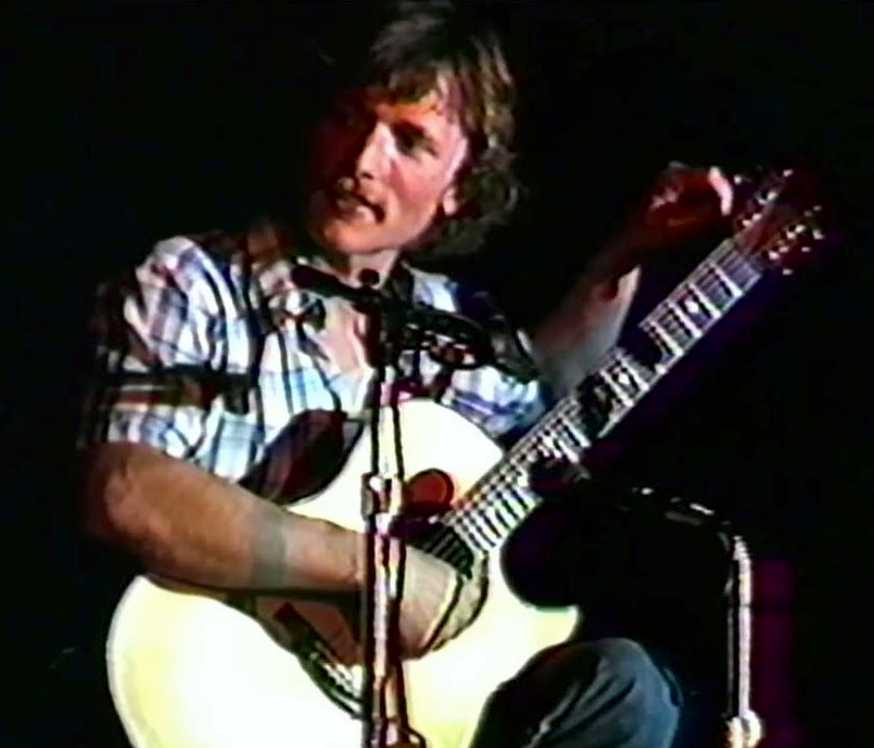 Willow: Click on the title boxes below to hear selections from the Willow album, on Windham Hill Records.  The guitar on all cuts is the superlative, first-of-its kind, modified dreadnought built by Ervin Somogyi in 1980.
Pedal capo: During his final U.S. tour and a six-week solo tour of China in 1989, Hecht performed a suite for guitar and pedal capo, a device he designed and built to augment the instruments tonal, rhythmic, and textural resources. To see and hear some of the music, click on the photo to the right.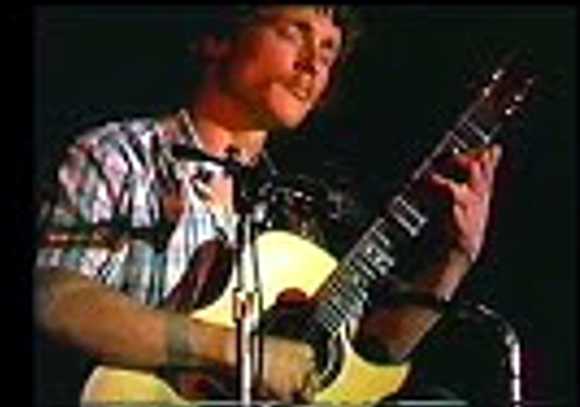 Live concert videos: Daniel writes, "Thanks to Randy Lutge and the late George Winston, some video clips from a concert at the New Varsity Theater in Palo Alto, Cal., have been restored and posted to the web. My stage patter was monstrous  and tuning took forever.  But I like some of the tunes, which include several solos never released on any album: 'Love's Reply,' 'Some Compensations' (and 'Winter Window'). George was especially fond of 'Score for an Unwritten Film.'"
Fireheart/Fireriver: "Always my greatest supporter, George also digitized my 1978 album Fireheart/Fireriver and posted it on YouTube.  To hear a sample, check out 'Remembrance,' 'Forgetfulness,' and 'Spiced Blood.'"
Guitar Album Re-released!  Daniel writes: "Morning Trip Records, a wonderful, progressive label based in Toronto, has re-released my very first album, Guitar (1973).  It's now available in LP vinyl and digital download!  Living in rural Wisconsin, I wrote guitar solos about what I saw: cows, small town life, and county fairs in tunes like 'The Seymour Volunteer Fire Department,' portraying fire engines hurrying toward their rescue operation.  I also liked to write hypnotic mantras that I'd play 'round and 'round.  My primary influences included Bach, rock 'n' roll, John Fahey, English folk music (courtesy of John Renbourn), and Indian classical music."
To hear a sample, or to order from Morning Trip Records/Bandcamp, click on the cover image.